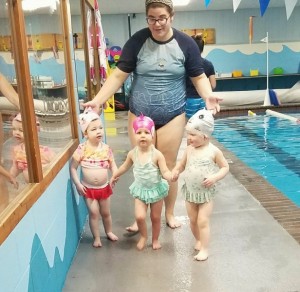 Our Noblesville swim lessons are for swimmers of all skills, ages, and abilities. Our indoor, heated pool allows swimmers to learn in an environment that is comfortable and safe. All swimming lessons at our Noblesville facility are year-round, continuous classes, therefore enrollment is always open. Please view our FAQ page to find answers to common questions. Please download our New Enrollment Information Sheet for more details on our policies & procedures.
If you need help selecting the proper class for your child, please check out our Level Guide.
Swim Lesson General Information
All participants are subject to SCSC Policies & Procedures. As a result of our year-round program structure, all Noblesville swim lessons are subject to change based on instructor and pool availability.
Monthly Fees:
$93/child for all other levels (Water Babies is a free class)
Our Curriculum
At Stony Creek Swim Center, our curriculum develops proper stroke technique and fundamental swimming skills. We use the 'rollover' method of breathing in our lessons. Students are taught to rollover onto their back to float, relax, and get a breath. This method is taught primarily in our small pool and may be used as a review in our big pool. Once the student has mastered the rollover, we shorten this movement to a half of a rollover which is the proper method of rhythmic breathing. You will see our instructors using a '1,2,3, Breathe' method to cue students on breathing. Students are taught to breathe on the same side after every other pull. In our higher levels, they will be taught to alternate sides to get their breath. Our classes are all geared toward helping children be safe around water. Floating, treading water, and safety jumps are all taught in order to provide children with resources to help themselves should they ever fall into water. We believe it is important to keep your child in swimming lessons until they can adequately swim a lap of each stroke. Learning should be fun, repetition is key, consistency is a must, and swimming is not only fun… it's a necessity!